I started writing this article in June when the rain was beating against my window, with the prospect of the summer holidays in a matter of days. The panic set in, what on earth are we going to do to fill our days? And yet, the last few days at the North Coast have been beautiful. Not overly warm but we're in shorts and Tshirts anyway enjoying the sun! Long may this continue.
Anyone who knows me knows I have a master list of parks to visit and indoor and outdoor activities, listed by cost. Now, it's not in my interest to reveal all my secret trips and ways to fill the time! But I did think I would do a couple of posts with some ideas for the summer. The indoor activities post is here.
This one addresses a special request from a friend who asked me to do a list of my top rated parks! Given that I'm in Belfast, mostly they're in the greater Belfast area. Now, I don't know what's on your criteria for a good park, but here's mine:
- The older kids' climbing frame needs to be inaccessible to wee ones (or children with mobility difficulties, like Daniel) – genuinely don't understand parks where there are a set of easily climbed steps onto a high platform off which there are monkey bars, a scramble net and a fireman's pole. What 18 month old is getting off that safely?
- A good variety of toys – at least a slide, a climbing frame, space for free, imaginative play, a roundabout and maybe some wooden planks or beams for balancing.
- Either a hill or something appealing in the surrounding nature for the kids to run up and down.
The first point is the most important so it's why parks that other people rant and rave about (Stormont's Mo Mowlam anyone?!) don't make my list. And I like a park that's a short drive as there can be a short nap in the car which seems to be the only time my boys nap now!
So here's my list:
Wallace Park, Lisburn
This is a lovely park – lots of wooden parts to the playpark, a great park to walk around and you can get the train there! There are ziplines, a sand area with those sit on diggers, as well as lots of wooden balancing frames.
Loughshore Park, Jordanstown
This park is right next to the beach at Jordanstown so ticks the boxes for something other than the playground too, there's a café right next to the park and the park itself has an older kids toy completely inaccessible to toddlers, and the best balancing toy I've seen in a playground with a really big toddler climbing frame with a few slides off it too. And it only takes about 10-15 minutes to drive to.
Flora Street, Belfast
This is between the Beersbridge Road and Avoniel Leisure Centre on the new walkway. The park is absolutely fab including a zip line low enough for toddlers and although it's not very sheltered (trees are very immature) there is a nice walk along the Connswater on your way there!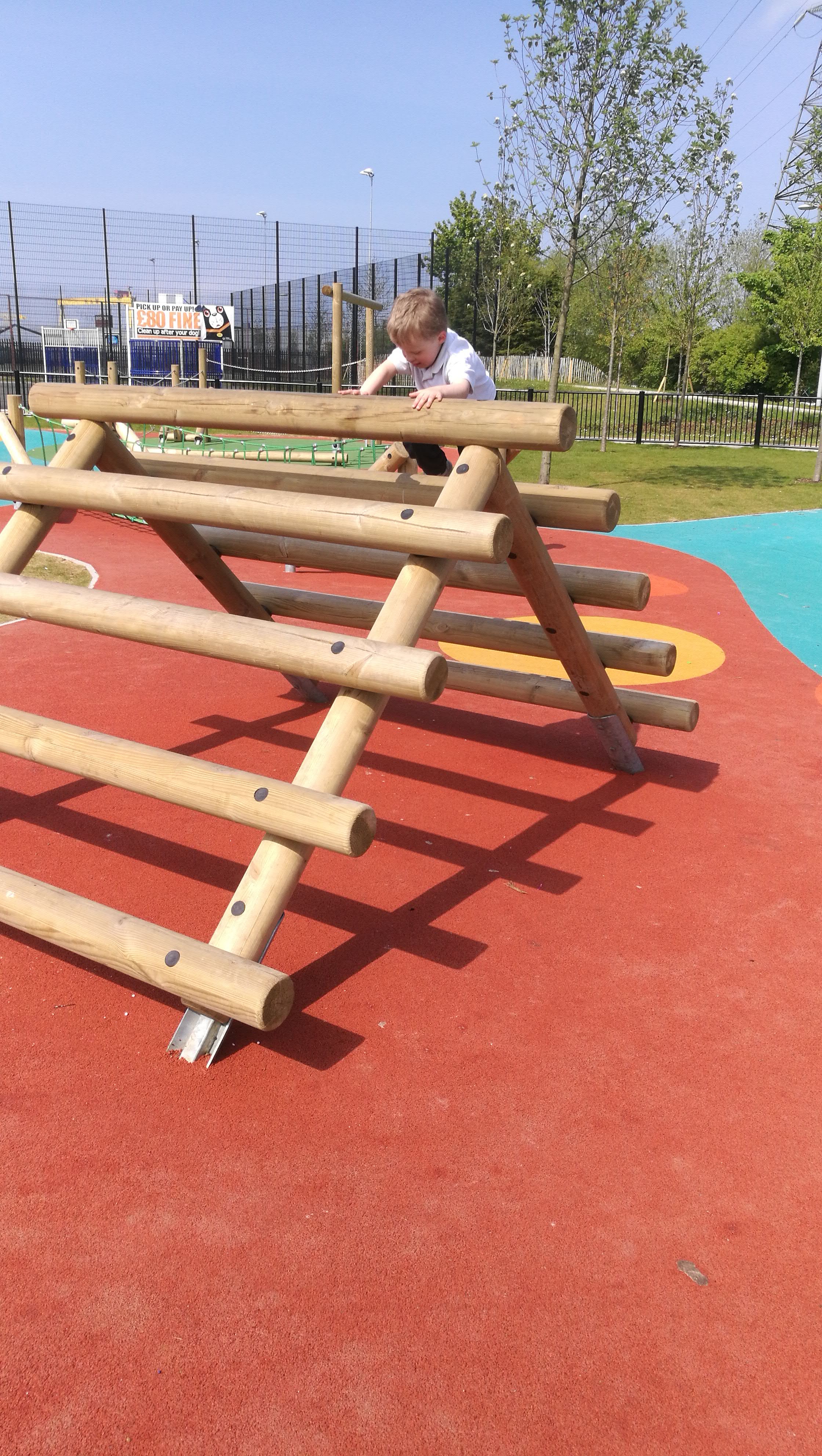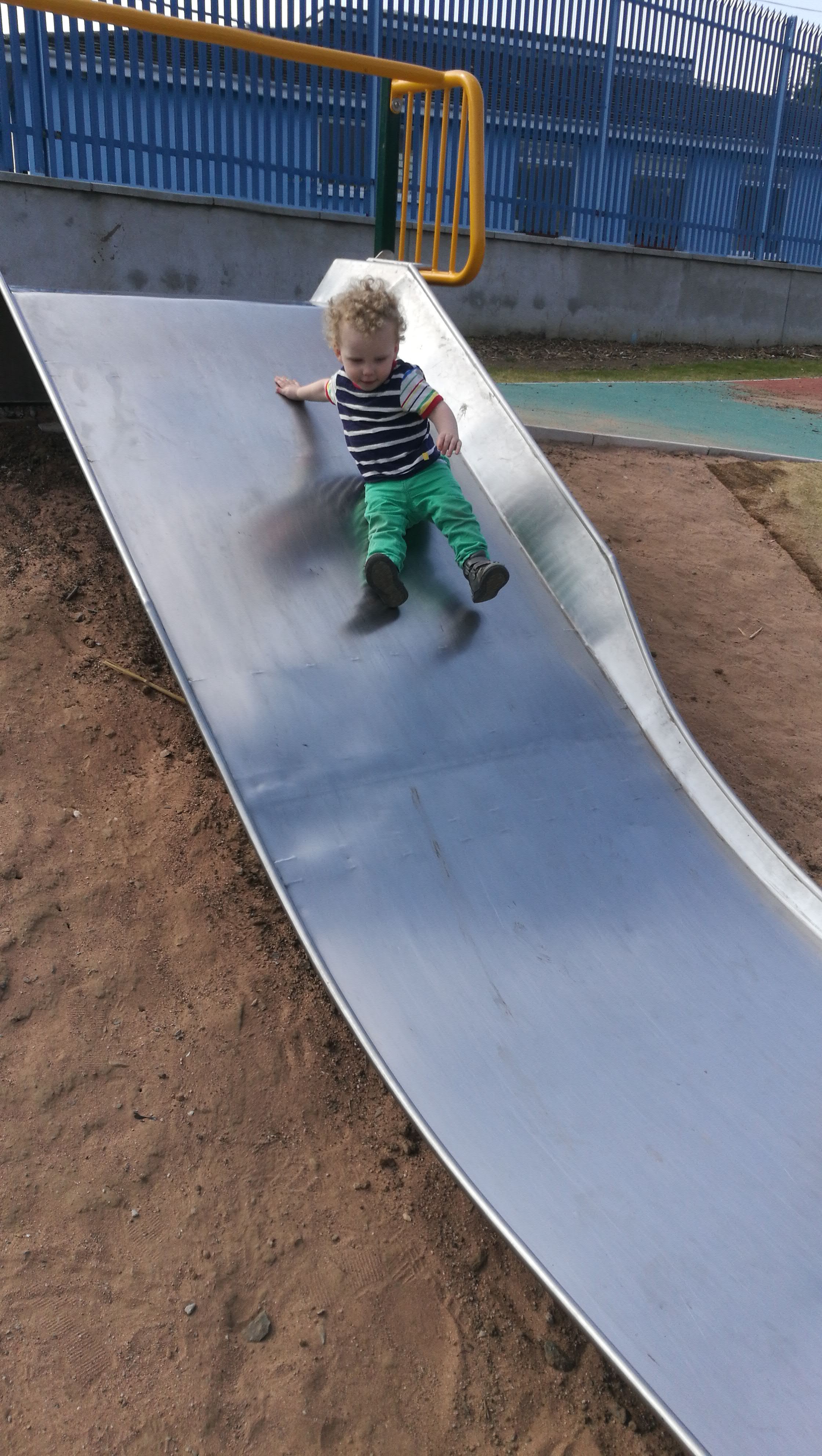 Pirate Park, Carrick
Now I can't be DEFINITE this meets my first criteria as it's been a year or so since I've been, but I remember it feeling pretty safe to let the boys run around in. There is plenty to do, lots of climbing nets and even has built in trampolines and a ship! And there is an ice cream shop across the road!
Seapark, Holywood
Seapark has been redone recently. It's not the biggest or best playpark in the world but is right next to a fabulous bit of open green space, a lovely beach and miles of flat seaside paths. Perfect. The new park has a lovely musical section and a few imaginative play stations – a shop front and train station ticket office which my boys love!
Aside from the parks, there are plenty of great outdoor options, here are some that cost money. For parents of children with special needs, make sure you mention that they're on DLA and you're their carer – most places let you go in for free. I know some people feel this is cheeky or awkward but honestly our children often don't have the stamina to stay places very long or may be freaked out by something that happens and could mean you have to leave quickly. People don't always appreciate the extra costs involved, so ask and you'll find most places if you pay for the child, you save on the accompanying adult's fare.
Streamvale Farm
If you haven't been, go! They have tractor and barrel rides (sometimes free, check the day) and so much to see, lots of farm animals and pets, a lovely walk by a stream that goes past the red deer, it's a working dairy farm so the cows get milked twice a day, and a couple of play areas and places for picnics. You can make a day of it, but to be honest, it's so close to our house we have season tickets and just head there for short visits to go for cuddle time, or a tractor ride, or puppy play time or Daniel's favourite – milking!
Castle Espie
Castle Espie is a WWT centre near Comber. There is a good walk around it and you can feed the ducks as well as looking at all the birds that flock to the area, but my boys mostly love the free soft play area (you can access it without going outside, which you have to pay for!) which is basic but can kill some time for you!
National Trust
There are so many National Trust venues and everyone has their own favourites. Personally I love Mountstewart for the lake walk and lovely gardens and Rowallane Gardens in Saintfield. I only do these on days the boys are up for a decent walk though, often the paths aren't great for buggies and it's nice to let them run around and explore properly anyway. The National Trust don't allow carers in for free without their own "Access for All" card which you have to apply for on their website. As under 5s are free themselves we normally just pay in one adult for the full family, bargain!
Free outdoor activities
Local parks
Check your local council's park activities, often there is free music in parks on Sunday afternoons – our boys love a boogie to everything from brass bands to jazz trios! There are also summer children's play days with circus skills, face painting etc.
Antrim Castle Gardens
This is the most fab place to visit, there's a river, nice old bridges, gardens to walk around and a café which does DAIRY FREE CAKE! And all free (except the cake). Yes, it's a bit of a trek from Belfast but personally, well worth it for a day trip.
Tannaghmore Farm, Craigavon
Again, this is a bit of a trek but if you're heading west for a holiday, worth a stop! The farm is a bit random, it's just a semi circular walk round a mini open farm, but there are plenty of animals for the children to be entertained by, there's a tractor to sit on and a picnic area and park.
Belfast Castle Cat Garden
This is a lovely one. Head up on a sunny day and tell your children there are nine cats for them to find. Some are easy – sculptures, others are mosaics or woven into the shape of the seats. Apparently there is a map available if you want to cheat (or assist younger children!) – my boys love maps so next time we go up I may use it as an opportunity to do some map reading skills!
And of course, you can't beat heading out to the garden, letting them hang up clothes, wet paintbrushes to 'paint' the fence or just a paddling pool. So what about you, any gems of outdoor activities for the hopefully lots of sunny days we'll get this summer? Or maybe like me, you'll keep a few to yourself!